Online Coaching Platforms and Tools in The Digital Age
Because there are so many sites and tools for online coaching, there has been a big change in how we learn new information and skills. This blog will explore how online coaching tools can change lives and "What is Coaching", whether you're a professional who wants to learn more with a Train the Trainer Certification or just interested in the world of coaching.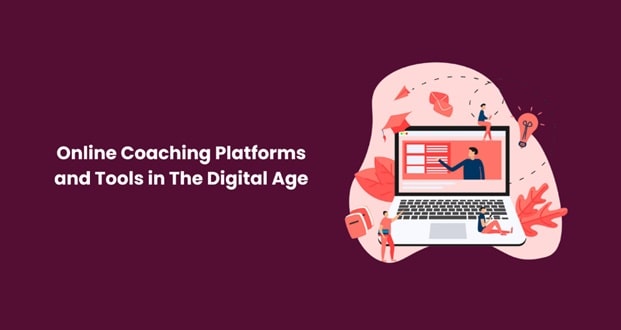 Table of contents 
What is Coaching?
The Digital Transformation of Coaching
Online Coaching Platforms
Interactive E-Learning Tools
Data Analytics and Feedback
Mobile Apps and Accessibility
Benefits of Online Coaching Platforms
The Role of Train the Trainer Certification
Conclusion
What is Coaching?   
Before we get into online coaching systems and tools, let's talk about what coaching is. Coaching is a dynamic process that helps people or groups reach their goals, whether they are personal or professional. With guidance, motivation, and support, coaches help their clients reach their full potential, overcome obstacles, and deal with change positively. This can be used in many different situations, like job coaching, life coaching, executive coaching, and more.
Unlike traditional teaching or mentoring, coaching focuses more on helping clients figure out how to solve their problems than on giving them knowledge or skills. Coaching is an open and effective way to grow professionally and personally because it focuses on the client.
The Digital Transformation of Coaching    
The digital age has brought about many changes in coaching, making it more available, flexible, and useful. Here are some important things about this change:
Online Coaching Platforms   
Online platforms for coaching work as virtual meeting places where coaches and clients can talk and engage. You can do many things on these platforms, like schedule tools, file sharing, video meetings, and texting. With the ability to hold lessons online, coaches can reach people worldwide and eliminate the limits of geography. These platforms often have tools for managing customers and handling payments safely.
Interactive E-Learning Tools   
Coaching often involves teaching people new things and helping them improve their skills. Using e-learning tools and platforms has fully changed this part of coaching. Through interactive courses, webinars, and virtual workshops, coaches can get learners' attention in real-time and give them an organised programme. These tools have tests, evaluations, and ways to track progress, giving useful information about their users' growth.
Data Analytics and Feedback   
Data analytics are used by digital coaching tools to track client growth and get feedback. Coaches have access to metrics about how happy clients are, how well they are learning, and how engaged they are. With the help of this data-driven approach, coaches can better tailor their teaching methods to each client and make sure that each client gets personalised care.
Mobile Apps and Accessibility   
Mobile apps have made coaching much easier to get. Clients can talk to their coaches and get materials using smartphones or tablets. This makes learning and growing a part of their daily lives. Setting goals, keeping track of progress, and getting alerts and reminders are all features that most apps have.
Benefits of Online Coaching Platforms   
Using online teaching platforms and technologies has led to several benefits in the coaching field.
Online coaching is not limited by location, so teachers can work with people worldwide. This brings in more customers and gives teachers a bigger range of problems and points of view to deal with.
Online coaching is easy and flexible, which is good for teachers and their clients. Sessions can be set up with many plans and time zones. Clients have access to resources and help whenever and wherever they need them.
Online coaching can often save money on costs like office space and travel fees that come with in-person teaching. This can lead to more profitable teaching or competitive prices for clients.
Digital platforms offer info that can help coaches figure out what to do. Coaches can get better results by tracking their clients' growth, finding areas where they need to improve and changing their methods on the spot.
The Role of Train the Trainer Certification   
A Train the Trainer Certification could be very helpful for workers who want to become great coaches. Through this certification course, people can get the skills and knowledge they need to succeed in the coaching and training fields. It talks about how to interact with clients, how to talk to them, how to teach, and how to use coaching tools like Internet platforms.
In addition to focusing on ethics and best practices, a Train the Trainer Certification course ensures that trainers are professional and keep client information private. The need for qualified coaches will only grow, and certification courses are the only way to ensure that trainers are reliable and skilled.
Conclusion
Getting a Train the Trainer Certification is an important first step for anyone who wants to become a skilled coach. With the start of the digital age, coaching has moved into a new era with many opportunities for growth and self-improvement, whether you are a coach, a client looking for personal or business growth, or someone interested in coaching. Accepting these technological changes can lead to better teaching results and a brighter future for people and businesses.